DURABILITY & LONGEVITY
The Durability and Longevity of Your Engagement Ring
Durability and longevity are always at the forefront of our mind when we design a new ring. Engagement rings and wedding bands are incredibly sentimental pieces and they're meant to be worn all day, every day. That's a lot of wear for a piece of fine jewelry. 
Shop Rings
We work with our clients to ensure that their ring is not only beautiful, but functional.
Nothing would be worse than wearing your ring for a few months and it falling apart - Hera strives to craft only high quality heirloom pieces, ones that last decades and are passed down through generations. The characteristics your ring needs to be durable will always depend on the design.
That's why it's so important to work with a designer like Hera, who cares about your ring as much as you do. But there are some common features we always like to see. Three of the major factors that come into play in most engagement rings are band width, gallery rails and setting height. The width of your band is absolutely essential to the integrity of your engagement ring. Thin bands are prone to bending, warping, or even snapping in half - yikes. We recommend a minimum width of 1.8 mm for your engagement ring band. In our experience, most clients who are looking for a thinner band are surprised by how well-balanced and delicate 1.8 mm bands look (and feel).
Shop Rings Gallery Rails on Engagement Rings
If you're interested in a classic prong-set engagement ring, make sure you look for sturdy prongs supported by a gallery rail, or a piece of metal that encircles and reinforces the prongs. Not all prong set engagement rings require a gallery rail, but it's pretty much always a good idea. This piece of metal will keep your prongs stable and, in the event that one of them bands back - we know, scary! - it will limit how far back the prong can bend, hopefully keeping your stone from falling out.
LOOKING FOR A HIDDEN HALO?

Guess what! That's just a gallery rail with diamonds added to it. Hidden halos are one of the most common customizations we offer.
Setting Height
Setting height affects both the comfort and durability of your engagement ring. The lower your diamond is set on the ring, the more comfortable it'll be. It'll be more durable, too, because that basket isn't teetering off your finger and knocking against everything you touch. At Hera, we set all our engagement rings as low as possible for the design of the specific ring. The culet, or pointy bottom, of the stone should be pretty close to the bottom of the basket, without a lot of empty space.
Diamond Pavé
Pavé (pah-VAY) is a type of setting for small diamonds, also referred to as melee diamonds. When set this way, the diamonds are held in by tiny prongs at each corner, with very little visible metal.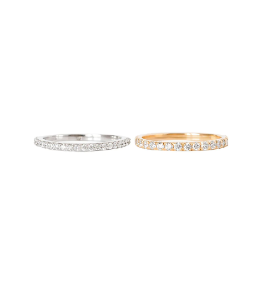 Pavé means "paved" in French, and really does look like your band is paved with diamonds! It's a beautiful effect. But there are some durability considerations that you should be aware of, because those teeny prongs are doing a lot of work to keep your diamonds in the band. 
With regular wear, those little prongs will loosen. In fact, if you get a pavé ring, you should expect to lose a diamond or two over the 30+ years you plan to wear it. The good news is that these aren't hard to replace, so it doesn't need to deter you unless you're hard on your hands or you're looking for a maintenance-free piece. We recommend having your pavé ring checked yearly so a jeweler can tighten the prongs and make sure everything looks good.
CARING FOR YOUR HERA RING
Maintenance
Rings take a lot of abuse when you wear them daily, so no matter what type of ring you get, we recommend having a local jeweler inspect it every year to make sure everything looks good. This is especially true for pavé - and all prong settings - as those prongs can loosen with regular wear.  As far as cleaning goes, we keep it simple with some Dawn dish soap, warm water and a baby toothbrush - just let it soak for a few minutes and gently scrub all the nooks and crannies. If you prefer jewelry cleaner, that works too! Just make sure that the product you're using is compatible with your ring - some kinds of cleaner can remove the rhodium plating on white gold, for instance.