Welcome to an engagement ring shopping experience unlike any other —
SHOP RINGS
Welcome to an engagement ring shopping experience unlike any other —
Hera is the antithesis of the traditional engagement ring experience. We've swapped pressure and pretension for collaboration and fun, tossing in a few essential elements like sustainability, inclusivity, and thoughtful education along the way.

Sure, we're fine jewelers with a knack for crafting one-of-a-kind, heirloom-quality engagement rings from sustainable materials. But more than that, we're your guides and support as you navigate one of the most exciting parts of your "I do" journey.
And we can't wait to help you find or create the ring of your dreams.
Shop Rings
When our founder went through the engagement ring shopping experience, she realized just how exhausting, confusing, and overwhelming the process was. Instead of feeling excited and supported by the jewelers she worked with, she felt pressured and misled — like they cared more about getting the sale than helping her find exactly what she was looking for.

That process inspired her to create Hera — a fresh take on the ring shopping experience.

And for us, that experience starts with education. We love empowering our customers to make a decision they're proud of and feel really good about — which is exactly why we've made it our mission to demystify the engagement ring industry and uncover fact from fiction.

WHAT WE BELIEVE | WHAT WE BELIEVE | WHAT WE BELIEVE | WHAT WE BELIEVE |
WHAT WE BELIEVE | WHAT WE BELIEVE | WHAT WE BELIEVE | WHAT WE BELIEVE |
WHAT WE BELIEVE | WHAT WE BELIEVE | WHAT WE BELIEVE | WHAT WE BELIEVE |
WHAT WE BELIEVE | WHAT WE BELIEVE | WHAT WE BELIEVE | WHAT WE BELIEVE |
WHAT WE BELIEVE | WHAT WE BELIEVE | WHAT WE BELIEVE | WHAT WE BELIEVE |
WHAT WE BELIEVE | WHAT WE BELIEVE | WHAT WE BELIEVE | WHAT WE BELIEVE |
WHAT WE BELIEVE | WHAT WE BELIEVE | WHAT WE BELIEVE | WHAT WE BELIEVE |
WHAT WE BELIEVE | WHAT WE BELIEVE | WHAT WE BELIEVE | WHAT WE BELIEVE |
SUSTAINABILITY COMES FIRST
From our lab-grown stones and recycled metals to our recyclable packaging, we do our best to put the planet first.
SIZE SHOULDN'T MATTER
Unlike traditional jewelers, we offer inclusive sizing without a price hike — because we don't think you should pay extra for a ring that fits.
Craftsmanship is key
We believe in heirloom-quality jewelry that outlives its first owner and goes on to tell a story for centuries to come. That's why we craft rings with precision, care, and a healthy dose of perfectionism.
Inclusivity is Non-negotiable
We love love, full stop. And we're honored to serve our LGBTQ+ family while providing a safer space to celebrate your story.
Education is power
Not only is education incredibly empowering to you as the consumer, but learning about durability and sustainability helps you make more conscious decisions and avoid contributing to fast fashion and landfills. A win-win for you and the planet!
The hera standard
Our promise to you
We'll always be 100% transparent about what's possible — even if it means explaining why your request isn't the best option and guiding you toward a solution that is.
All of our rings are durable enough for daily wear and won't bend or break from normal activities.
We'll do everything we can to bring your truest vision to life — collaborating until we've got it just right.
Our "no" will always be followed by a "why" — because we believe you deserve to know.
We'll always listen to your ideas and requests — this is a collaboration and you're an equal partner.
OUR FOUNDER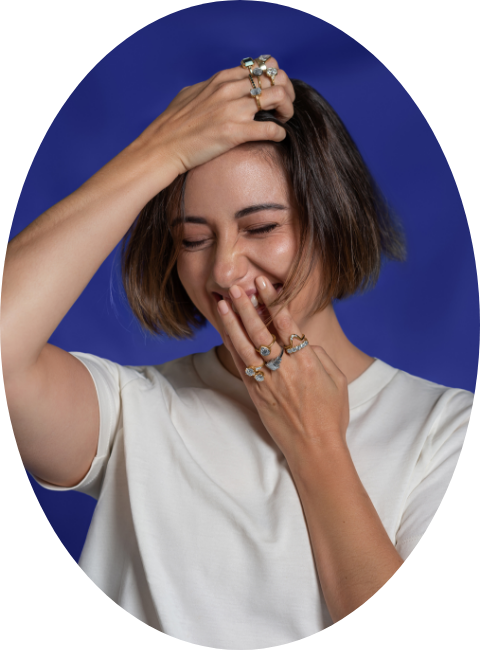 A Letter From Lauren
Hey there! Lauren Boc here — founder and CEO at Hera. If this were an in-real-life store instead of a virtual one, I'd be offering you a craft beer or a fizzy drink to sip on while you peruse our gorgeous collection of ethically-made, heirloom-quality engagement rings. We'd probably get into an hour-long conversation about durability, the differences between lab-grown and mined diamonds, and which local cafes we simply can't get enough of.
You could say we do things a little differently than most engagement ring shops and that's completely intentional. Because here's what I know about this industry — there's a lot of gatekeeping, pressure, and misinformation and not enough education, inclusivity, or care.

So I created Hera to change all of that and offer a ring shopping experience that feels good — some might venture to say it's actually really fun.

We exist because you deserve access to information that makes choosing your ring fun and empowering. You deserve first-class craftsmanship and the confidence that your engagement ring will last through daily wear and decades of adventures. You deserve ethical and sustainable options that look incredible and won't cost your entire life savings to buy or build. And most of all — you deserve a jeweler who sees you and celebrates your story regardless of who you are or where you came from.

At Hera, no question is off-limits and no idea is too big. We promise to do everything we can to bring your vision to life in an ethical, sustainable way you'll love.

I hope you find something that excites you and feels like a direct reflection of your story. And if you have any questions at all, please reach out and let me know — I'll be waiting on the other side with an answer (and probably some info you didn't even know you needed).